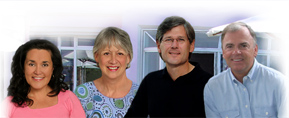 Home | Information Library | Online Magazine | News Room | Employment | Site Map | Contact Us


advanced search
vapestore.to
LEADING COMPANIES
Online Magazine
for the High Performance Company
Featured Article for February 2006
Equity Compensation Plans Under the New Deferred Compensation Rules
By David Binns, Beyster Institute Staff
The 2005 American Jobs Creation Act brought with it new tax rules which will have an impact on some equity compensation arrangements. Here's what you'll need to know about how IRS Code Section 409A applies to deferred compensation.
View Details
Read the February Issue of Leading Companies
Quick Links
Bookstore
Books written by the staff experts at the Institute and recommended reading
Speakers Bureau
Our staff of professional speakers
Newsroom
Press releases and resources
Employment
Employment opportunties at the Beyster Institute
Rady School at UC San Diego
Transforming innovation into revolutionary change
Become a Contributor
Help to foster the "share the wealth" attitude.
Contact Us
Inquiry and address information

The Beyster Institute's mission is to advance the use of entrepreneurship and employee ownership to build stronger, higher performing enterprises nationally and internationally. Launched in 2002 by the Foundation for Enterprise Development, the Institute is now part of the Rady School of Management at UC San Diego, serving as its key center for entrepreneurial thought and activity. It is the only such university-based center to integrate both employee ownership and entrepreneurship.
The Beyster Institute helps business leaders build successful companies worldwide through training, education and outreach. The Institute serves entrepreneurs by teaching them how to be effective managers and showing them how employee ownership can be adapted to fit their individual companies.
We offer a wide range of informational resources, events, training and consulting services on all aspects of employee ownership and entrepreneurship.
Beyster Institute Activities
SOUTH ASIA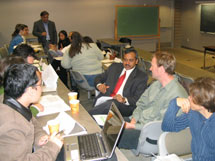 In December 2005 the Beyster Institute presented South Asia Professional Exchanges and Training (SAPET), the first session of a professional development program for university faculty from India, Pakistan, Sri Lanka and Bangladesh.
MIDDLE EAST & NORTH AFRICA
MEET U.S.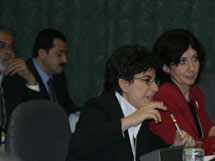 More than 100 participants from 15 Middle East and North African countries have completed the Middle East Entrepreneur Training in the U.S. (MEET U.S.) program presented by the Beyster Institute on behalf of the U.S. Department of State Middle East Partnership Initiative (MEPI).
Egypt
The Institute is partnering with Nathan Associates on a two-year project focusing on high-growth entrepreneurs in the ICT sector.
RUSSIA

In a joint venture between Intel Russia and the U.S. Russia Center for Entrepreneurship(CFE), the Beyster Institute presented the FastTracTM program to a group of 15 participants in Nizhny Novgorod, the third largest city in Russia.
View Details
CENTRAL ASIA
Kazakhstan
The Beyster Institute is partnering with Carana Corporation on a business and education project that will provide greater access to professional development opportunities through enhanced economic and business programs.
View Details
UPCOMING EVENTS
Employee Ownership
Equity Compensation Plans for Private Companies – eLearning
Online Seminars
View Details
Equity Compensation Plans for Private Companies – eLearning
Online Seminars
View Details
The 2006 Employee Ownership Conference
Annual Conference
St. Paul, MN
View Details
Speaking and Sponsorship Opportunities
International Programs
ANNOUNCEMENTS
MEET U.S. alumni join region's government officials and business leaders to celebrate the opening of the Center for Entrepreneurial Excellence in Bahrain (CEEB).
View Details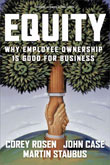 This lively and practical guide delivers a sound business case for making employees true partners in a firm's success. Order Now